We have been most fortunate to be having beautiful fall weather and we are doing our best to enjoy each and every day.
Mimì,
my sailboat, is now drydocked, which is acknowledgement that summer is over and winter is not far behind. Her is my girl, all sails removed and ready for winter storage. We had a lot of fun sails around the Boston Harbor Islands this summer.
But that then allows me more time to kayak with my girl Magellan (Maggie) . We went kayaking on Walden Pond and the Concord River. Walden Pond is peaceful but not much pf a physical challenge.
I love the river kayaking as there are great opportunities to bird watch and observe the painted turtles sunning on the rocks in the river. Some of the birds observed include kingfishers, sea gulls, red tailed hawks, osprey and great blue herons. I try to carefully and quietly paddle near the turtles but they tend to jump into the water as soon as they spot me. And speaking of birds, we spotted a barred owl on one of our hikes through the woods. The dogs did not see it so I got to watch it for a while. This is a picture of a barred owl (not mine) from Massachusetts Audubon website. I included it to let you see her/him. We have a great horned owl close to the house (also Mass Audubon image on the right), which we hear very often and I have seen her fly by the house and perch on a branch. They are beautiful, but I digress!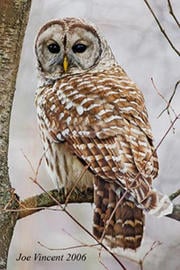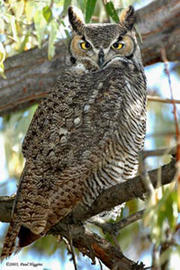 Barred Owl Great Horned Owl
Painted turtles sunning on a rock in the Concord River. Time alone on the river is a good time for reflection. I like to take in the scenery and watch for various birds. The sky was so clear but the winds were howling, so it was a lot of work to paddle against the river tide and wind. But I love the work-out!
With the warm weather, we also have enjoyed the flowers in the garden for longer than usual, although my monkshood always is in bloom until the heavy frost in November. They line my driveway and are a nice color contrast to the purple mums and pink zinnias.
This picture was taken in Winthrop, where Mimì is moored during the summer. There were so many butterflies here that I had to stop and take pictures. It was "marina weekend" and we all have to pitch in and help with making repairs and/or disassembling some of the docks. My job was clean-up! Every little bit helps I guess.
Can you tell what is missing from this photo? Mimì is not at her mooring! The club is close to the airport.
Here is a close-up of the monkshood. It doesn't start to bloom until October, so my gardens have some color and something in flower from March through November.
But one of the best things about this fall has been all of the walks we have done on the trails in town.
Here is a swan preening on a small man-made lake. Fionnegan, Gunnarr, Shorty and I often walk on this path around the lake and then take the trails into the forest. They all had one more swim in the cold lake. It must be refreshing after a long walk.
Town trail going to a pond.
Another pond in town. This is a long walk for the boys, but they manage quite well.
Shorty showing his black and pink Yapese tongue. He has been such a good dog and adjusted to an entirely new way of life. Food and love, works for me too!
Yes, this is Gunanrr wearing the cone. He has a wound on his tail, not sure if it was a result of the hornet sting, or rough housing with his brothers, or scraped under a bush. But he kept licking it, so the cone came out and gel medication treatment was applied. He wore the cone for three days until the wound was no longer raw. Now nothing is bothering him, he even had a bath and was fine with his tail being washed and brushed. But initially I had to chase him around the house to take care of the wound. But he was good and now does not lick it. Unlike Fionn and Shorty, Gunnarr does not like to look at the camera.
Here is little Fionnegan. Such a trooper on our walks. He competes with Shorty for lead and who can mark more territory! He gives so many kisses.
Pink roses on a walkway around the lake.
Everyone sleeps well after a nice long walk in the forest or along the water.
Upstairs getting ready for bed. Shorty leads the way and is now often asleep on my bed long before I get there.